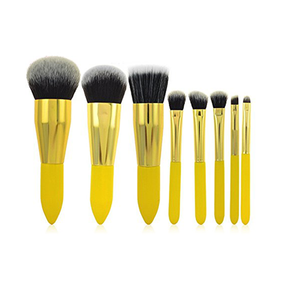 8pc Make Up Brushes Set - Yellow & Gold 
The Miss Pouty 8 Piece Professional Make Up Brushes Set is a collection of vibrant makeup brushes designed to deliver a flawless finish for the makeup.
With eight beautifully decadent brushes this set guarantees that a perfect complexion is achievable. Each brush in this fabulous collection is specially designed for a certain area of the face to ensure precise, complete creative control. With a selection of natural brushes for powder application and synthetic brushes to apply creams and liquids, this set is prepared to craft a multitude of effects and finishes.
Beautifully designed to ensure for easy manipulation, these beauty tools work tirelessly at assuring the complexion looks impeccable every day.
Includes:
Flat Top Foundation Brush
Flat Foundation Brush
Angled Liner Brush
Lip Brush
Blending Brush
Large & Medium Shadow
Angled Shadow Brush
Size:
x3 Large & Wide Brushes: 13cm x 2.8cm
x2 Small Brushes 10.6cm
x1 Small Brush 10.3cm
x1 Small Brush 9.2cm
x1 Small Brush 8.9cm
Shipping
Free Worldwide Shipping!