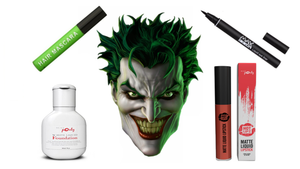 Halloween Joker Makeup Set
BE THE BEST JOKER IN TOWN
KIT INCLUDES:
1 x Miss Pouty White Liquid Foundation
1 x Miss Pouty Jet Set Red Lipstick
1 x Maxdona Black Liquid Eyeliner
1 x Stargazer Green Hair Mascara

"Let's put a smile on that face!"
With this tailor-made JOKER Halloween kit, you will have all the essentials you need for your perfect Halloween.

'WHY SO SERIOUS?!'
This complete JOKER makeup kit will have you and everybody else smiling this Halloween. Steal centre stage at all your Halloween events.