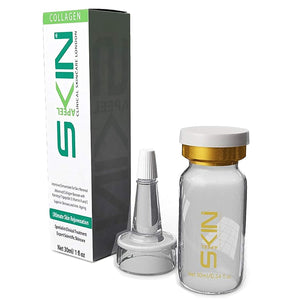 Eye Elasticity Serum
Eliminates Dark Circles, Eye Bags, Wrinkles, Crow's Feet. Firms and Tightens Skin.
Directions: Apply 2 To 3 Drops of Skinapeel Serum to The Treatment Area Daily. Once Done, Apply A Good Quality Moisturiser of Your Choice. Avoid Direct Contact with The Eyes. Perfect to Apply After Using the Infinitive Beauty Micro Needle Derma Roller System.
Features:
Helps to Eliminate Dark Circles.
Reduce Eye Bags.
Reduce Wrinkles.
Helps Delay Crow's Feet.
Skin Firming and Tightening.
Size: 10ml / 0.34 fl.oz
Storage: Keep in A Cool and Dry Place, Away from Sunlight. Once Opened, Best Stored in The Refrigerator.
Ingredients: Aqua, Hyaluronic Acid, Coenzyme Q10, Laevorotatory VC, Saussurea Involucrata Extract, Vitamin A