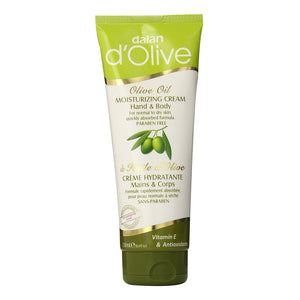 Dalan Hand and Body Cream for dry to normal skin is quickly absorbed helping to restore your skin's natural moisture balance, instantly making it soft and supple. 
The high Vitamin E content of olive oil nourishes and revitalizes your skin, providing a healthy glow to your skin. 
The Antioxidants in olive oil help to rebuild your skin's natural protection system against daily external factors.
Ingredients: Tocopherol, Ethylhexylglycerin, Fragrance (Parfum), Dimethicone, Dicaprylyl Carbonate, Butyrospermum parkii (Shea) Butter, Cetyl Palmitate, Ceteareth-20, Ceteareth -12, Cetearyl Alcohol, Caprylic/Capric Triglyceride, Glyceryl Stearate, Aqua, Glycerin
Capacity: 250ml