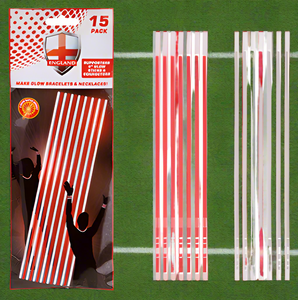 Women's World Cup Glow Stick Connectors 15 Pack - 20cm x 5mm
World Cup fever will soon be her so help create the perfect atmosphere this November. Our light up sticks glow in the dark creating the perfect atmosphere for any sporting event! Each pack contains x15 glow light stick which can be connected to make bracelets and necklaces. Each pack contains both white and red colours.
Features:
Glow Sticks with Connectors.
15 Pack.
20cm x 5mm.
Red & White.
Glow in the Dark.
Make Bracelets and Necklaces.