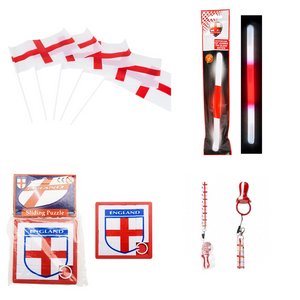 Women's World Cup Fever Pack
Get into the World Cup Fever by Celebrating the England Team in style. Perfect for Adults and Kids to get them in the World Cup Fever Mood.
The Kit Includes:
Sliding Puzzle.
Jumbo Glow Stick.
Candy Dummy Necklace.
4 Pack Flags.
World Cup England Team Badge Sliding Puzzle
Our plastic England sliding puzzle is a great addition to a party bag or to help keep you busy on your train or car journey to the stadium..
Features:
England Flag Sliding Puzzle.
8cm x 8 cm puzzle.
Fun for hours.
World Cup St Georges Colour Jumbo Glow Stick
World Cup fever will soon be her so help create the perfect atmosphere this November. Our light up sticks glow in the dark creating the perfect atmosphere for any sporting event! Each pack contains x1 Jumbo light with white and red colour.
Features:
X1 Jumbo Supporters Glow Stick.
10" x 15mm.
Up to 8 Hours of Light.
Red & White Light.
World Cup  St George Lanyard with Candy Dummy

Look a little more official during this years World Cup festivities with our silky smooth England flag lanyard and....sweet fruit flavoured dummy! Yes, enjoy the sweetness of mixed fruit while watching your team in action.
Features:
St George England Design.
Sweet Dummy 6cm x 4cm.
60g Mixed Fruit Hard Candy Dummy.
Detachable Dummy.
44cm Lanyard.
Hanging Hook.
World Cup St George Hand Flag 12" x 8" 
These St George flags are perfect for the upcoming World Cup. Made from durable all-weather material, these 12" x 8" flags are perfect for indoor and outdoor celebrations! Great for any British themed events like BBQ's and indoor parties. Celebrate with your family and friends in style.
Features:
St George plastic flags with Sticks.
4 pack.
Each measuring 12" x 8".
White background with red cross.