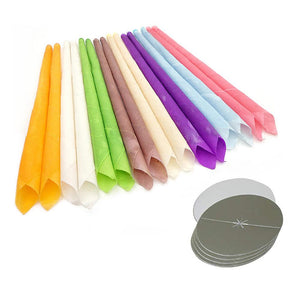 Glamza Clear Sound Premium Ear Candle Pair - 8 Pairs - Unboxed
Traditional Ear Candling is a wonderful and relaxing experience that helps calm the mind and soothes the head and ears. Each pack contains 16 candles and associated ear protection disks.
Ear candles are a form of therapy which helps to promotes general well-being whilst also facilitating in the removal of ear wax. It is regarded as a form of alternative medicine and is rumoured to have originated in North America via American Indian Tribes.
Used today in health spa's and by healers to help promote personal well-being.
Benefits:
Help to Calm the Mind
Helps with Relaxation
Energise the Mind and Body by Taking the Time to Focus on You.
Pampering Experience
Helps Facilitate the Removal of Ear Wax
Usage:
Have the person receiving the ear candling lie down on one side in a position that is comfortable.
Place a pillow under the person's head providing elevated support. The head's elevation vertically positions the auditory canal.

Before beginning the ear candling, clear the area around recipient's ear by brushing any hair back away from the ear.
Place a towel, or other type of covering, around the area of the ear to protect the recipient's clothing, hair and skin.
The person performing the ear candling should sit in a chair by the recipient's head