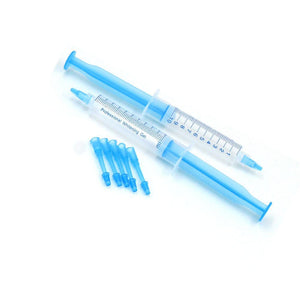 Glamza Hello Smile  -  Zero Peroxide Teeth Whitening Gel - Sodium Bicarbonate
Works best when used with the Glamza 'Hello Smile' Tooth Whitening Mouth Tray
Options:
3ml 
10ml
Instructions:
Apply pea sized drops evenly inside the mouth tray and place in mouth.
Leave for 20 to 30 minutes (times vary from person to person based on the condition of the teeth)
Thoroughly rinse mouth with warm water afterwards.
Timescale of results vary from a few days to a few weeks depending on how frequently used.
Note:
Syringe designs vary and change.
Non-peroxide gel.