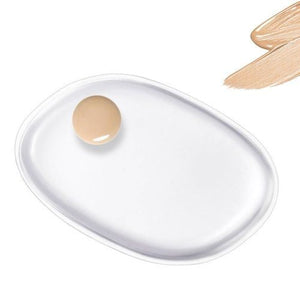 The Silicone Makeup Blender was designed to completely eliminate wasted makeup and apply makeup flawlessly. While sponge applicators soak up large amounts of makeup during application, the silicone style perfectly applies and blends your foundation, blush, highlighter, and concealer without absorbing one drop! Only half the amount of product is needed as compared to a traditional sponge or brush applicator.
The inner material is made from silicone and the outer shell is thermoplastic polyurethane (TPU)—a flexible plastic that's resistant to oil and grease, therefore saving you time and money as makeup that would otherwise be lost on your fingers is left free to be absorbed by your skin..
THE FUTURE
Silicone Makeup Blender is the future of make-up application. It mimics the feel of applying using fingers but with better surface area and hygienic. The tool is an especially ideal option for makeup artists.
UNIQUE DESIGN
Our unique silicone sponge with imprinted finger grips, for professional control when blending in the makeup.
MULTI USE
The silicone sponge works well with almost all foundation types, from cushions to powder, BB cream etc.
EASY TO CLEAN
Wash out quickly in soap and warm water keeping it ready to go for next time! Clean, sterilise and reuse within minutes, without the inconvenient drying time of a sponge.
Size:
6.5cm x 4cm
Note:

Keep Out of Direct Sunlight
Keep Out of Reach of Children.
Change To a New One Once There Is Any Damage of The Outer Lining.
For External Use Only.
Do Not Ingest.