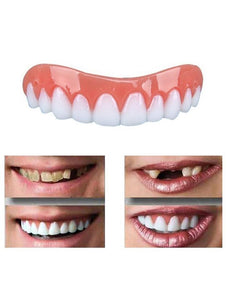 Glamza Perfect Smile Veneer
100% Brand New And High Quality.
Length: 6cm
Material: Silicone
Item: Upper Tooth Cover
Enhance Your Smile At Home In Minutes
Extra Thin Flex Technology Minimizes Speech Disruption, Ultra-Comfortable
Instructions Of Fitting:
Place The Teeth And The Silicone Strip Into A Cup Of Hot (Almost Boiling) Water For About 1 Minute Or Until The Silicone Strip Becomes Clear. 
Carefully Remove The Teeth And The Silicone Strip. Place The Silicone Strip At The Back Of The Teeth.
Using A Mirror, Firmly Position The Instant Smile Teeth Over Your Existing Teeth. Press Them Firmly Against Your Teeth And Gently Pat The Impression Material With Your Thumbs Behind Your Real Teeth. The Silicone Will Act As A Hook To Keep Them In Place - The Silicone Strips Acts Like A Reverse Capital J. 
Once You Feel The Teeth Are Correctly Positioned, Gently Ease The Teeth Out Of Your Mouth After 30 Seconds And Set Them In A Glass Of Cold Water To Cool - About 1 Minute. The Impression Material Turns White When It Is Hardened.
Try The Teeth And See How They Look. The Process Above Can Be Repeated As Many Times As Are Needed For The Required Result. 
You Do Not Have To Use The Entire Silicone Strip. Some People Find That Using Three Quarters Or Even Half The Amount Is Good Enough. This Is A Trial-And-Error Process Which Requires Time And Patience. 
Notice:
This Item Is Intended Only To Enhance Your Appearance Beyond Having Gap Tooth Or Multiple Missing Teeth. 
It Is A More Cost Effective And Affordable Means Off Covering Missing Teeth.
For Cosmetic Purposes Only, Do Not Eat Or Sleep While Using This Product.
Do Not Fit Over Braces Or Caps. If You Are Unhappy With The Fit, You Can Simply Remould As Many Times As You Want. For This Product To Stay Firm In The Mouth, You Need To Have Some Existing Tooth Structure. This Product Is Not A "Denture" Or "Dental Device".