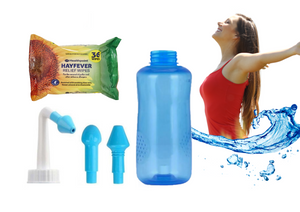 Hayfever Kit - Wipes and Nose Wash
Be summer ready and keep the hayfever down to a minimum with our nasal wash bottle for children and adults and our hayfever wipes for quick and easy use. 
Nasal Irrigation Bottle.
Experts suggest cleaning the nasal cavity regularly to help clear sinuses and reduce the affects of hayfever and our kit is suitable for daily use, the nasal wash uses the technique of nasal irrigation, and provides a quick and easy solution to nasal cleansing. The device helps with the symptoms of congested sinuses, colds and allergies. It can also be used to moisten the nasal passages of those who are exposed to dry, indoor air.
Hayfever Wipes Pack.
HP Hayfever Allergy Relief Wipes are specially formulated with soothing ingredients that help alleviate itching, sneezing, and irritation caused by pollen, dust, and other allergens. With their gentle yet effective formula, these wipes offer instant relief and a calming sensation to soothe your irritated skin.

Experience the convenience and portability of HP Hayfever Allergy Relief Wipes. Each pack contains 36 individually wrapped wipes, making them perfect for on-the-go use. Whether you're heading to work, traveling, or spending time outdoors, these wipes are a must-have addition to your allergy relief routine.
Benefits and Features:
300ml Bottle.
X1 For Adult Nozzle.
X1 Child Nozzle.
Hayfever Wipes.
Clear your nose and help relieve your sinus problems with the nasal wash neti pot / bottle.
Material: 
Medical Grade Polypropylene
Precautions:
Keep Out of Reach of Children.
Single Hole Nozzle (Children Aged Over 12 Years)
A Triple Hole Nozzle (Children Aged 6 To 12 Years)
 Note:
Not Suitable for Children Under the Age Of 6 Years Old.
Children Under the Age Of 12 Years Should Be Supervised When Using by An Adult.