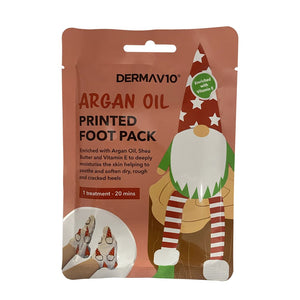 Derma V10 Deep Moisturising Foot Pack - Argan Oil, Shea Butter and Vitamin E
Christmas Gonk Derma V10 foot masks enriched with Argan Oil and Vitamin E & Shea Butter to deeply moisturise the skin helping to soothe and soften dry, rough and cracked heels.
Features:
20 minute Treatment.
1 Pair.
Against Animal Testing - Cruelty Free.
Suitable for Vegans.
Easy to Use.
Moisturising.
Ingredients:
Vitamin E, Aqua, Argan Oil, Glycerin, Shea Butter