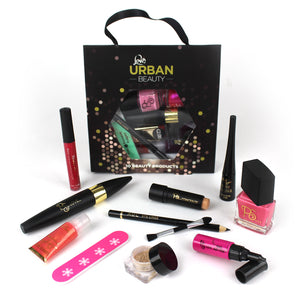 Love Urban Beauty 10 Piece Lucky Dip Cosmetic Bag
If you struggle to find the right gift for make-up fans...The struggle is no more.
These versatile 10pc makeup bags suit a range of purposes. They make fantastic gifts,  they are great for ensuring you have a few last minute essentials with you on holiday or even as just a quick top-up for your makeup collection, to ensure you keep looking your best.
The sets come with a variety of items inside and are sold as a random assortment. Stylish, elegant, and convenient, these bags are great quality without the excessive high street price!
Includes 10 makeup items, from the following range:
Lip gloss
Lip liner pencil
Eye liner pencil
Nail polish
Nail art pen
Lipstick
Blusher
Concealer
Mascara
Shimmer powder
Eye shadow cream
Liquid eyeliner
Eye shadow
Toe separators
Tweezers
Scissors
Nail stickers
Applicators
Brushes
Nail clippers
Note:
The list above 'might' be included within each bag and items may be duplicated. Eg nail polish but in different colours and sizes etc
The exact quantities, shades and variety of each item will vary from each 10pc bag.
We do not fill these bags. They are filled in advance so we do not decide what is in them and cannot account for requests.