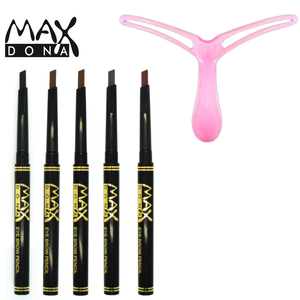 Maxdona Eyebrow Pens & Pink Eyebrow Shaping Stencil
Our eyebrow styling template is perfect for that just groomed look and best of all its quick and
easy to use. Simply line up the stencil and use the professional eyebrow pen to create your style. Each pack includes stencil and 1 or 2 eyebrow styling pens. 
Package Includes, if selected:

x1 Pink Eyebrow Stencil and x1 Eyebrow Pen. 

x1 Pink Eyebrow Stencil and x2 Eyebrow Pens.
Maxdona Professional Retractable Eyebrow Pencils 
Maxdona Eyebrow Pencils Are the Most Advanced and Well-Designed Eyebrow Markers on The Market. They Are Made with A Retractable Design for The Most Economical Usage. These Quick Drying and Long-Lasting Eyeliners Come with A Fine Tip for Extra Precision to Help You Create That Glamorous Look.
Features:
Easy To Use.
Retractable.
No Sharpener Required.
Long Lasting.
Blends Well.
Angled Head for Precise Results.
Handbag Friendly Size.
Colours:
1) Black.
2) Brown.
3) Light Brown.
4) Charcoal Grey.
5) Dark Brown.
Glamza Eyebrow Shaping Template Eyebrow Stencil - Pink
Create beautiful shaped eyebrows without plucking, waxing or threading.
Perfect for both men and women.
Achieve professional salon style results at home or on the go.
Simply place the pink stencil on your nose, line it up and away you go!
Size:
13cm Width