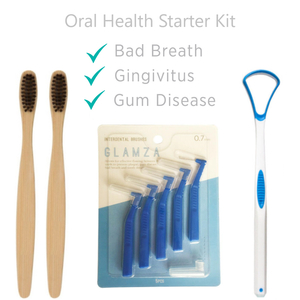 Oral Health Starter Kit
Interdental Brushes 5 Pack, Tongue Scraper & x2 Bamboo Toothbrushes.
Why Brushing Your Teeth Is Not Enough!
Before brushing, our interdental brushes help to disturb debris between your teeth to help mainatin optimal oral and gum health. Our Bamboo Toothbrush is designed to clean your teeth while being eco-friendly. So to support this we have put together a kit to help tackle oral hygiene issues from angles. Our Glamza tongue scraper effectively helps you pinpoint areas you are missing like your tongue and the gum oil helps combat numerous issues related to oral health like bad breath, gum disease and tooth pain. 
Plaque and Tartar: 
Plaque is made up of invisible masses of harmful germs that live in the mouth and stick to the teeth along the gum line. Plaque can cause tooth decay & cavities. Tartar is calcified plaque that attaches to the enamel on your teeth and below the gum line. Using IB Tooth and Gum Oil which is both extra strength and extra fresh, the Tongue Scraper and Bamboo Toothbrush regularly can prevent further growth of plaque and tartar.  
Prevent Bad Breath: 
When plaque remains between your teeth, the bacteria it harbours can create a foul smell. Tooth decay and gum disease can also cause halitosis (Bad Breath).
Complimentary Tips on Bad Breath:
Rinse after eating, eating cucumber, using interdental brushes regularly and tongue scraping to clean your tongue.
Glamza Interdental Brushes
Flossing is perhaps even more important than brushing because it removes bacteria that are the precursors of plaque, which if left to fester will turn into tartar that cannot be removed by regular brushing or flossing. Tartar is what eventually causes the damage that leads to decay and tooth loss
Features:
Brand New & High quality.
Total cleaning for your teeth and gums.
Helps to remove food debris.
Helps to remove plaque.
Helps to keep gums healthy.
Contents:
5 x Brush Head Dental Floss
1 x Cover for Brush Head in Use
Glamza Tongue Scraper - Blue

Oral hygiene problems such as bad breath and plaque formation are believed to be associated with a build-up of bacteria on the tongue.  Regular use will help promote fresher breath, improved taste sensitivity and a cleaner, healthier mouth.  Use daily as a part of your oral hygiene routine.

Features and Benefits:
Narrow headed design minimises gag reflex.

Enjoy fresh breath and restored taste.

Improves oral hygiene.

Removes plaque forming bacteria.

Quick.
Easy to use;
Usage:
Gently slide along the tongue from back to front and rinse.

Size: 17.5cm long x 3.6cm wide
Bamboo Toothbrushes

Thinking of going more eco friendly!
Our toothbrush handle is composed of high quality moso bamboo and is biodegradable. The DuPont nylon bristles are recyclable and made from renewable raw materials.
Features:
Bamboo - Eco Friendly.
100% Vegan Friendly.
Brilliant for Teeth and Gums.
Great for the Environment.
Perfect to use alongside charcoal teeth whitening powder.
Biodegradable.
Medium-Soft.
100% recyclable.