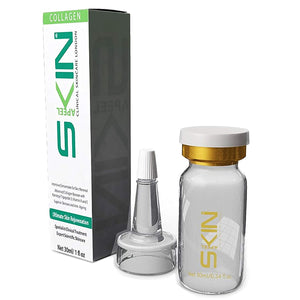 Botulinum Toxin Serum
Description: Made of A Multitude of Potent Antioxidants Including Vitamin C, E, Green Tea, Black Tea, Which Shield the Skin from The Most Dangerous Free Radicals That Contribute to Wrinkles. Rapidly Diminishes the Appearance of Fine Lines and Wrinkles.

Directions: Apply 2 To 3 Drops of Skinapeel Serum to The Treatment Area Daily. Once Done, Apply A Good Quality Moisturiser of Your Choice. Avoid Direct Contact with The Eyes. Perfect to Apply After Using the Infinitive Beauty Micro Needle Derma Roller System.
Features:
Antioxidants Including Vitamin C, Vitamin E, Green Tea, Black Tea.
Shield the Skin from Free Radicals.
Reduces Wrinkles.
Diminishes Fine Lines.
Size: 10ml / 0.34 fl. oz

Storage: Keep in A Cool and Dry Place, Away from Sunlight. Once Opened, Best Stored in The Refrigerator.
Ingredients: Aqua, Botulinum Toxin, Hyaluronic Acid, Collagen, Amino Acid Moisturising Factor.