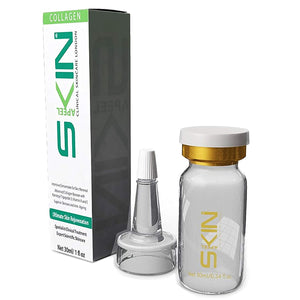 Hyaluronic Acid Serum:
Description: Often Referred to As The 'Fountain of Youth'. Hyaluronic Acid Helps to Retain Over 1000 Times Its Weight in Water Within the Cells of Skin, Making It an Excellent Moisturiser. With Its Ability to Lock in Moisture, Hyaluronic Acid Helps to Create Smoother Skin, Softer Skin and Decreased Wrinkles.
Features:
Excellent Moisturiser.
Lock in Moisture.
Hyaluronic Acid.
Create Smoother Skin.
Softer Skin.
Decreased Wrinkles.
Directions: Apply 2 To 3 Drops of Skinapeel Serum to The Treatment Area Daily. Once Done, Apply A Good Quality Moisturiser of Your Choice. Avoid Direct Contact with The Eyes. Perfect to Apply After Using the Infinitive Beauty Micro Needle Derma Roller System.

Size: 10ml/ 0.34 fl oz
Storage: Keep in A Cool and Dry Place, Away from Sunlight. Once Opened, Best Stored in The Refrigerator.
Ingredients: Aqua, Hyaluronic Acid, Aloe Extract.