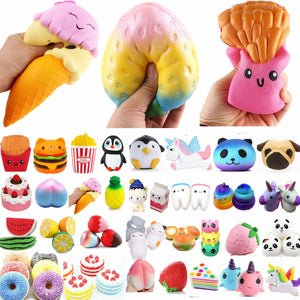 Slow Rising Squishy Toy for Stress Relief
Choose From The Above Jumbo Squishies And Mini Key Ring Squishies
Meet the Squishes:
Big Fries
Big Ice Cream
Big Milkshakes
Big Popcorn
Age:
4 Yrs Plus - Always supervise children as they may try to chew or bite the toy.
Material:
Closed-cell polyurethane foam rubber.
Features:
Super cute
Soft
Keeps shape
Helpful for finger therapy & hand finger stiffness
Fun to squeeze.
Also as stress relief toys for giving vent to your emotion.
Note: Colours may vary