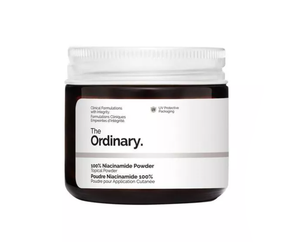 The Ordinary 100% Niacinamide Powder 20g
Brand new 100% Niacinamide Powder.
Niacinamide is known as vitamin B3 and is a powerhouse when it comes to minimising the appearance of pores, improving uneven skin tone, softening fine lines, controlling oil production, soothe irritation, reducing redness and brightening your skin.
The Ordinary is ideal for all skin types but especially for those who are susceptible to oily and blemish prone skin. Transform your skincare routine and stay ahead of your friends.
The vitamin C in this item will also help to naturally exfoliate the skin and to neutralise free radicals.
The Ordinary Niacinamide Powder has been specially developed so that you can customise your skincare routine to suit the specific needs of your skin and the great thing about it is, it's easy to use!
Simply combine the niacinamide powder with your favourite non conflicting water-based formulas and you will benefit from two skincare products at the same time.
Usage:
To use the formula, mix a quarter scoop of the spoon provided with a water-based treatment in the palm of your hand and apply to your face in the morning and/or evening. Avoid contact with eyes and rinse thoroughly with water if this occurs. Wash hands thoroughly after use and do not mix with formulations with a pH of 5 or lower.
Features:
20g
All Skin Types
Skin Brightening.
Anti-Blemish.
Oil Absorbing.
Dull Skin
Sulphate Free.
Great for Combination and Oily Skin.
Gluten Free
Mineral Oil Free
Nut Free
Alcohol Free
Water-Free
Silicone Free
Vitamin B
Vitamin C
Oil Free
Paraben Free
Cruelty Free.
No animal derived ingredients.