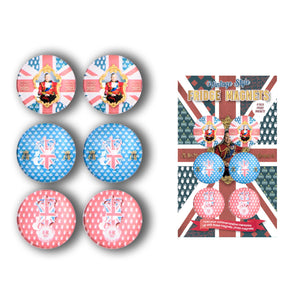 Vintage Coronation Fridge Magnets 6 Pack
These Vintage Royal Coronation magnets are a great way to celebrate the Royal Coronation on the 6th May 2023. Each pack contains 6 printed magnets.
Celebrate the royal occasion in vibrant style with these eye-catching red, blue and union jack printed round fridge magnets. Whether it's a street party, national sporting event, outdoor prom, bake-off competition or summer fair, these colourful hats are sure to raise spirits and smiles at many a special occasion.
Features:
6 Pack.
Fish Eye Magnets.
2.5cm Diameter.
x2 Red with Crowns and Union Jack
x2 Blue with Crowns and Union Jack.
x2 Prince Charles with Union Jack. 
3 Designs.
Crown Print, Union Jack and Prince Charles Print.