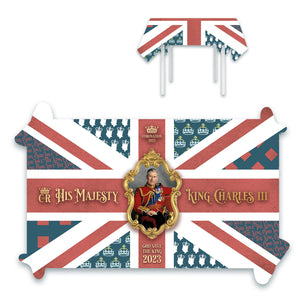 Vintage Royal Coronation Reusable Tablecloth 137cm x 183cm
Celebrate the Royal Coronation with vintage royal table cloth which measures 137cm x 183cm. Great decoration for events and parties and easy to place down and remove.
If you want to show your patriotism and true British colours, what could be more fitting than a vintage royal coronation table cloth!

Perfect for parties, street celebrations or just for decorating your home or garden, these table cloths will get your heart swelling with pride.
Durable, stylish, and the perfect way to display your passion and love for the UK and the Royal Family.
Features:
183cm x 137cm
Reusable Table Cloth.
Easy Wipe.
Waterproof.
Prince Charles Design.
Kings Tribute.
Union Jack and Crown Design.